It's barely February, but Chino has already been hit with more than half of our yearly average for rain this year.
In January of this year Chino received 7.55 inches of rain. Which is good news here in Southern California. Everyone in California knows about the drought problems. While many residents made the effort to conserve water the state really needed some good rainfall. Last year's El Nino weather system was supposed to bring plenty, but 2016 didn't live up to the hype. This year things are already looking better.
Here is a side by side comparison. On the left is a drought monitor image from December 27, 2016. On the right, from January 31, 2017. (Source: http://droughtmonitor.unl.edu/MapsAndData/WeeklyComparison.aspx)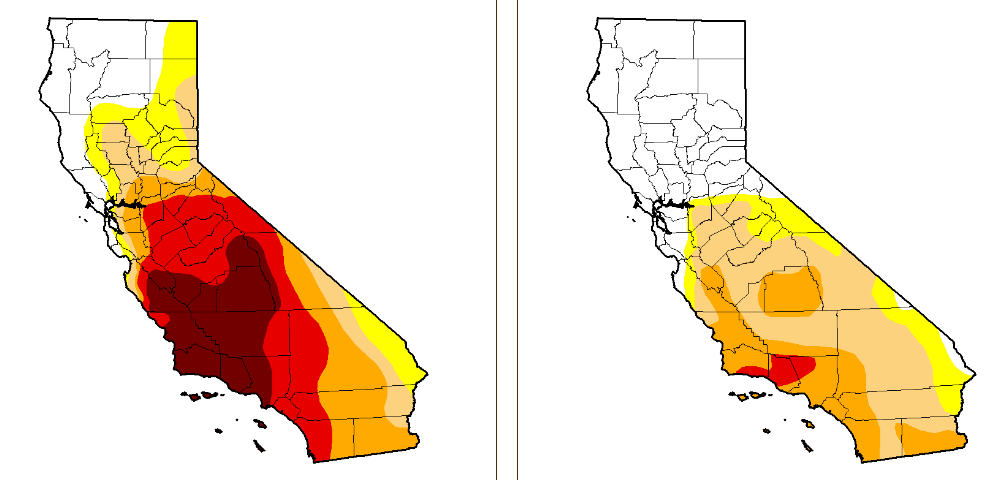 Color Guide – Intensity Levels
Yellow – D0 (Abnormally Dry)
Beige – D1 (Moderate Drought)
Orange – D2 (Severe Drought)
Red – D3 (Extreme Drought)
Maroon – D4 (Exceptional Drought)
You can see how much of a difference the past few weeks of rain made. We're glad to have the rain and are looking forward to a beautiful green spring in Chino.
As usual, with rain in Chino comes snow in the mountains. Check back soon. Our next post will share some of our favorite places to drive to from Somerset Apartments in Chino for snow day activities.